PLAY BY EAR POP PIANO COURSE
This course is conducted in English.
To see our course in Chinese, please click here.
---
Your Superhighway to Success
PLAY BY EAR POP PIANO VIDEO COURSE
No prior knowledge required.
The whole package includes:
Study Manual
Step-by-step written guide covering topics in:
Practical Skills
Chord Theory
Accompaniment Styles
Aural Training
Transposition on-the-fly
Instant Composition
also keyboard basics, fingering, both hands cooridination, beats counting, ad lib, pedalling, etc
Play Piano by Ear Seminar (2 hours)
Priciples of shortest path to musicianship including:
Aural training: the essense of playing by ear
How to harmonize any tunes with chords
Harmonization in practice: Step-by-step guidance
Playing chords: an easy but beautiful-sounding accompaniment style
Free Guitar-Hero-styled computer game for piano practice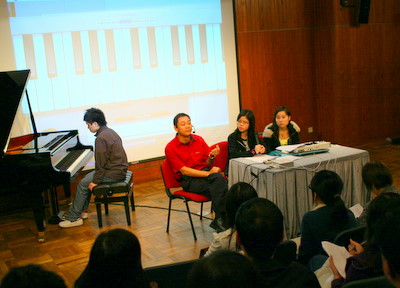 Songs included:
| | |
| --- | --- |
| My Love Will Get You Home | Christine Glass |
| Fur Elise | Beethoven |
| Canon in D | Pachelbel |
| Perhaps Love | John Denver |

You can play most songs you like after mastering the principles. The above songs are for illustration only.



Seminar Close-up (1 hour)
Over-the-shoulder demo video taken in the Seminar:

| | |
| --- | --- |
| That's Why You Go Away | Michael Learns To Rock |
| My Heart Will Go On [Titanic] | Celine Dion |
| Today (accompaniment) | Folk song |
| Unchained Melody | Righteous Brothers |
| Canon in D | Pachelbel |
Tutorial 1: "Fur Elise" in an hour (1 hour)
Your step-by-step guide to playing from scratch without note-reading


Tutorial 2: "Mariage D'amour" in an hour (1 hour)
Another fool-proof guide to playing piano by ear


Tutorial 3: "Finding You in Loving Memory" in an hour (1 hour)
Speed-learning in practice: Learning an unfamiliar song from scratch - the magical learning experience



Yes, I'm ready to start learning NOW!
US$399.99
PLAY POP PIANO BY EAR ONLINE COURSE (English version)